Maastricht - Liège vv
Trip duration: 9.30 - 17.00 hrs
Board from: 9.00 a.m.
Adults € 27,00 Children (4 to 12 years) € 17,50
A pleasant day trip on the Meuse and the Albert Canal, to the fascinating city of Liège. On the way there and back, the boat passes the famous lock of Ternaaien with a drop of no less than 15 meters. The boat will arrive in Liège around 12:00 PM and you will have time to visit the city. On Sundays there is "La Batte"; the oldest and well-known Liège market. At 2.30 p.m. the boat sails back to Maastricht.
Explanation by the captain

During this boat trip, the Captain gives an explanation in Dutch about the sights. In addition, a paper explanation in English and German is also available on board.

Comfortable seats on board

Our ships are comfortably furnished and you are therefore always assured of a good seat

Including passage of the lock of Ternaaien

During this trip, the boat also passes the famous lock of Ternaaien with a drop of 15 meters.

Free time in Liege included

Visit this fascinating city and take a nice walk through the city or visit the famous Liège market on the Batte on Sundays
Extras with your boat trip?
Extras can be added in the next step of the reservation proces.
Request wheelchair ticket
Are you or someone in your party in a wheelchair? We only know 2 weeks in advance which ship will make the trip to Liège. Request your tickets through our reservations department.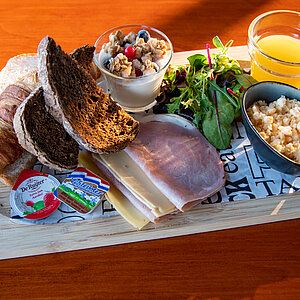 Breakfast board
€ 14,50 per person
Cup of coffee or tea, croissant, slice of white bread and sourdough bread, scrambled eggs, ham, cheese and jam. Yogurt with granola.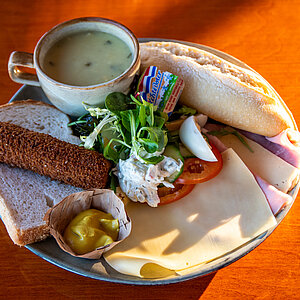 Lunch package
Adults € 17,50 Children € 9,75
By arrival coffee (soft drink for the kids) and Limburg fruit pie and during the tour an extensive lunch (also as a vegetarian variant) consisting of:
* Soup of the day * croquette with bread * rustic baguette healthy
For the kids * Frikandel sandwich * Soda * bag of chips or rocket ice cream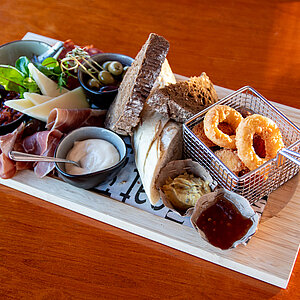 Tapas board
For 2 persons € 19.50 per shelf
Extensive Tapas board for 2 people with various snacks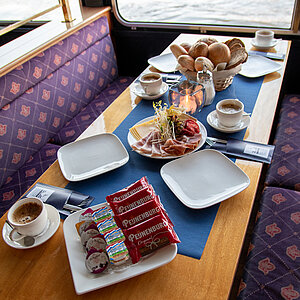 Captain's lunch (from 20 people)
€ 14,95 per person
For groups of 20 or more people, it is possible to combine the boat trip to Liège with a Captain's Lunch consisting of an assortment of sandwiches and breads, cheese, various meats, yoghurt and jam. Coffee, tea and milk are served as desired during lunch. Reservations can only be made through our reservation department.
Frequently asked questions
Is it possible to get on the boat with a wheelchair?
2 of our 5 passenger ships are fully adapted for wheelchair users, so there is also a disabled toilet. Due to our extensive sailing program, it is not always possible to use an adapted ship. If you want to book a boat trip and you or someone in your party is in a wheelchair, this can only be done via our reservation department
How do I receive my tickets?
After you have made the payment you will receive the tickets in your mailbox. If you do not receive tickets, we advise you to first consult your spam box. If you do not find any tickets there either, please contact our reservations department.
Can I cancel?
After purchasing your ticket, you can no longer cancel and there is no refund for tickets that you will not use. You can convert your ticket to another date free of charge up to 48 hours in advance. For this, please contact us at our reservations department.
How do I get to Rederij Stiphout?
The jetties and ticket office are located at Maaspromenade 58, right in the center of Maastricht, between the Sint Servaasbrug and the Wilhelminabrug. The City-Tour through Maastricht, which is provided by our American school bus, also departs from this location. The Maaspromenade is a walking area and is not accessible to cars for large parts of the day (11am-6pm). We advise you to park your car in one of the parking garages nearby the Rederij. See Maastricht Bereikbaar to plan your trip to our location at Maaspromenade 58.
Can I drop off passengers at the boat?
The Maaspromenade is a pedestrian area and therefore not accessible by car. The nearest parking garage is the Mosae Forum parking garage at Maasboulevard 40. Coaches do have the option to drop off and pick up guests all day long. They can use the route via Het Bat and Kesselskade. For parking of coaches, we refer to the website of Maastricht Bereikbaar
Can I bring my dog with me?
You can take your dog with you, provided it is on a leash.
Am I indoors or outdoors?
Our ships all have indoor seating as well as an outdoor deck. We do not reserve a specific place inside or outside for our passengers. If you would like to sit outside in good weather, you should therefore embark early.
Is there any other catering on board in addition to the extras shown?
During the boat trip to Liège there is also a lunch menu on board. You can view the menu here already.
Do you know a good restaurant for lunch or dinner?
Also on the Maaspromenade is the trendy restaurant "Riverside Lounge" where you can enjoy delicious coffee with Limburg pie, a tasty lunch or an atmospheric dinner.