Tour on the Maas & Visit caves
Trip duration: 3 hrs
Board from: 20 minutes before departure
Adults € 23,50 Children (4 to 12 years) € 16,45
Combine the cruise on the Maas from 1 p.m. with a visit to the caves "Zonneberg". After 20 minutes of sailing, disembark at Sint Pietersberg for a guided tour of the caves. Away from the crowd, no light, no sound, no sense of time and no range with your phone… Zonneberg Caves is a vast system with about 80 km of corridors. An experienced guide will take you underground for an approximately 1 hour tour. Fascinating for young and old. After the tour, walk back to the jetty at the foot of the Sint Pietersberg for the second part of your boat trip, departing 20 minutes past the hour.
Due to a climbing walk to the caves, this program is not suitable for people with walking difficulties. The temperature in the caves is around 12 ºC all year round.
Explanation in Dutch and English

During the cruise on the Maas, there is an explanation on board in Dutch, English and German. The cave tour is in Dutch and the English tour departs at 1:00 PM.

Comfortable seats on board

Our ships are comfortably furnished and you are therefore always assured of a good seat.

Including various highlights of the city

The boat naturally sails past the most beautiful places in the city, such as the Sint Servaas Bridge, the Basilica of Our Lady, the Gouvernement and the Sint Pietersberg.

Underground walk in the Sint Pietersberg

Discover the Zonneberg corridors with a guide. An underground journey through the darkness; away from the crowd, no light, no sound, no sense of time and no range with your phone…
Extras with your boat trip?
Extras can be added in the next step of the reservation proces.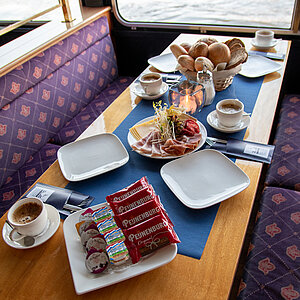 Sint Pietersberg Package (from 20 people)
Adults € 38,45 Children (4 till 12 years) € 25,45
Combine the cruise on the Meuse & Cave visit with lunch on board. To have enough time to enjoy your lunch and the beautiful view, you will sail an extra hour in this program. The total program therefore takes 4 hours. The Captain's Lunch consists of an assortment of sandwiches and breads, cheese, various meats, yoghurt and jam. Coffee, tea and milk are served on request.
The Sint Pietersberg package can only be booked through our reservations department.
Frequently asked questions
Is this tour suitable for wheelchair users or people with walking difficulties?
No, if you or someone in your group is in a wheelchair or has difficulty walking, you cannot book this tour. The quay at our Slavante jetty can only be reached via a 13-step steep staircase. This is followed by a climbing walk of about 10 minutes to the starting point of the guides.
How do I receive my tickets?
After you have made the payment you will receive the tickets in your mailbox. If you do not receive tickets, we advise you to check your spam box first. If you do not find any tickets there either, please contact us with our reservations department.
Can I cancel?
After purchasing your ticket, you can no longer cancel and there is no refund for tickets that you will not use. You can convert your ticket to another date free of charge up to 48 hours in advance. For this, please contact us at our reservations department.
Can I also get off without a cave visit?
Yes, that's possible. Then buy a ticket for our Canal Cruise on the Maas. The boat leaves from Sint Pietersberg every 20 minutes past the hour. When leaving the boat, ask the crew what time the last boat departs that day.
Can I bring my dog with me?
Unfortunately, dogs are not allowed in the caves.
Am I indoors or outdoors?
Our ships all have indoor seating as well as an outdoor deck. We do not reserve a specific place inside or outside for our passengers. If you would like to sit outside in good weather, you should therefore embark early.
Is there any other catering on board in addition to the extras shown?
Yes, view our menu for more options during the tour.
Do you know a good restaurant for lunch or dinner?
Also on the Maaspromenade is the trendy restaurant "Riverside Lounge" where you can enjoy delicious coffee with Limburg pie, a tasty lunch or an atmospheric dinner.